This was actually my 3rd attempt to have dim sum at Hee Lai Ton (Pudu) restaurant. The first time we were here, the restaurant was closed temporarily for renovation which was why we went to The Ming Room instead.
In the following visit we came slightly too late and they were already out of dim sum. So this time, I made sure we arrived early to avoid another disappointment.
Even though Shaw Parade looks like an abandoned mall from inside out, you'd be surprised by the amount of diners at Hee Lai Ton. It's almost as though everyone who walks into the dead mall is here for the dim sum. So that says a lot about their popularity.
While the restaurant might excel in their food department, the same couldn't be said for their service. Pudu's Hee Lai Ton is notorious for its horrendous service especially during weekends and public holidays.
For a normal Chinese restaurant, I'd rate the Char Siew here as excellent and all of us enjoyed it. The moment the char siew arrived we knew it was going to be good by looking at the glistening glaze of coating on it.
It's so well marinated that you don't need any additional sauce to further flavor it. Not to mention it had the right amount of crispy caramelized marinade too. Those bits provided the sweetest and most concentrated flavor, simply sinfully delicious. RM25 for a small portion, enough to be shared among three pax.
My only gripe was that the cut we got was too lean (still tender though), if it had more fats then it should taste considerably better. I am not sure if you could actually specify your preferred cut for the char siew since it's not an option in the menu, but I reckon there's no harm trying to ask – just make sure you ask the ask a helpful staff instead of the grumpy ones.
Unfortunately everything from here onwards started to go downhill, slowly but surely. Siew Mai @ RM8.50 was not bad but nothing exception either. I felt it was a tad underseasoned and could use more prawns in each piece.
Steamed Spare Ribs @ RM8.50 is good. At least it's meatier than what Ming Room offers and the overall flavor is not too salty compared to the others in town.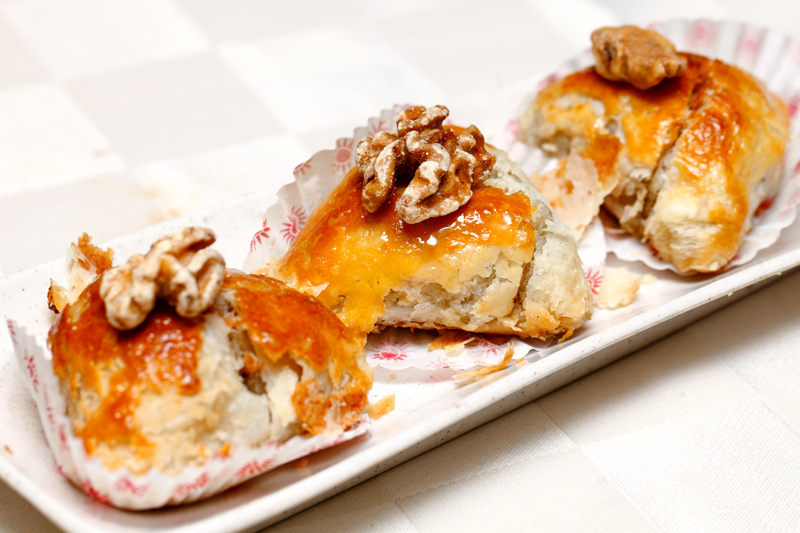 ---
Baked BBQ Pork Puff @ RM7 is a personal favorite that I never miss ordering at every dim sum restaurant. Hee Lai Ton makes it slightly more special by adding walnuts on top of the puffs lending it a crispy texture as well. Overall, somewhat enjoyable but far from the best I've had.
The Celery & Garlic Dumpling @ RM8 looked promising but as soon as we tried to lift it from the basket, the skin broke. A pity because the fililng was actually quite tasty.
Steamed Meat Balls with Diced Water Chestnut @ RM8 – normal stuff.
Spinach Chee Cheong Fun with Prawns @ RM8 – great tasting superior sauce but the amount of prawns in each roll is miserably little.
Loh Mai Kai @ RM7.50 – moist, sticky and savory. The chicken had a strong ginger taste which could be a turn off for some.
---
In total, we spent close to RM99 for this meal which I feel is still reasonable considering it's the same price we paid at the Ming Room. However, this time there were the three of us instead of the usual two.
Lastly, if you are not the patient type, you should seriously think twice before eating here. Either you reach here freaking early before the crowd swells, or prepare to loiter. For your information, our dim sum arrived 30 minutes and an hour apart.
Due to that we spent more than two hours at the restaurant, with more than half of the time just waiting. Come to think of it, the reason the restaurant is so packed is because most of them are still waiting for their food so they are not ready to leave!
Hee Lai Ton Restaurant (Pudu)
3rd Floor, Shaw Parade
Jalan Changkat Thambi Dollah, Off Jalan Pudu
55100 KL
Tel: 03-2148 8666
Leave a comment: