The opening of Magnum Cafe at Mid Valley is the latest craze to hit KL which got the people all hyped on social media. Throw in a clever marketing to give away free ice creams and there you have it, a long queue of people wanting their very own customized ice cream.
Until the hype dies down, Magnum Cafe will continue become the talk of the town for the following weeks. For those who are interested in what's in store for you at Magnum Cafe, read on.
The cafe opens at 10am daily but due to late closure on the grand opening day yesterday, it was only open at 10.30am today. But as you can see, people were already seen lining up patiently for the cafe to open its doors.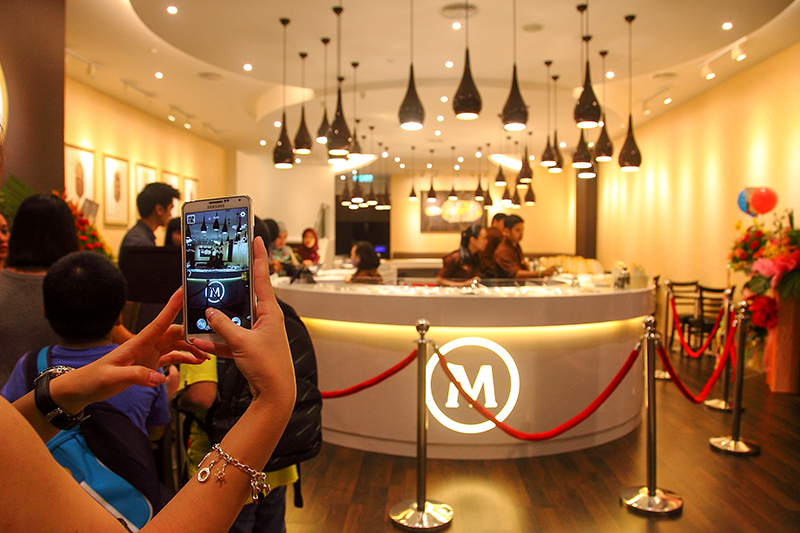 Upon entering the cafe you have two choices: either to dine in or take away your customized Magnum ice cream. If your plan is to have a meal (Magnum Cafe also serves snacks, soup and pasta) then you will be ushered to the first floor of the establishment, where a similar setting is available but with more seats.
---
Most of the attention will be on customizing your own Magnum which basically involves 4 steps: coating, topping, drizzling and setting.
Coating is when you decide whether your ice cream is going to have a chocolate brownie or classic vanilla flavor. Then you choose the type of topping you want such as almonds, goji berries, pistachio, dark chocolate pearls, white choco crunch pearls, dried mango and freeze dried raspberries.
Choosing the white or dark drizzle will then determine the final look of your ice cream. Usually a contrasting color is recommended. So lets say you are having a chocolate brownie ice cream, white drizzle will be the recommended one. But hey it's your personalized ice cream so the decision is still yours.
Finally, the ice cream is allowed to rest for 2 minutes for the chocolate to set into shape. What follows next requires no further explanation – share your custom made ice cream with your friends on social media and bite in.
If you don't feel like customizing at all, feel free to get one of the many pre-designed Magnum from the menu at the same price of RM9.90. Some of them include Super Goji, Recess or Fruity Loops (as shown above) Fruity Loops is a classic vanilla ice cream with a coating of white chocolate and dark drizzle with a topping of dried mango, freeze dried raspberries, chopped pistachio and dark chocolate pearls.
Magnum Galaxy @ RM30 is a very chic and modern presentation of Magnum with Asian flavors. It has a vanilla Magnum dipped in both white and dark chocolate with shards of sesame and white chocolate sheets, then served with black sesame sponge and mascarpone cream.
---
Magnum Fries @ RM15 – almond crusted fries served with spicy chocolate dip. Truth to be told, this did not impress at all. I feel it could be skipped in favour of other better selections. And here are some photos of the establishment:
---
---
---
---
The seating area upstairs.
---
Magnum art pieces.
The limited seating area downstairs when entering through the main entrance.
---
---
Here's a tip: enter via the entrance located upstairs. As you can see the queue is visibly shorter. This will save you some time, at least until the hype cools down.
**The staff is still new so do expect a lot of hiccups. We got food mistakenly delivered to us three times, and it took them about 15 minutes just to clear our bill.
Magnum Cafe Kuala Lumpur
T-023, 3rd Floor (same wing as GSC Cinemas)
Mid Valley Megamall
Business hours: Sunday to Thursday (10am to 10pm), Friday & Saturday (10am to 12am, last call at 11.30pm)
Leave a comment: